We offer automatic coffee beans machines which have infinite possibilities.
We offer brewing coffee machines: Saeco SG-200, Necta Colibri, and Necta Kikko (in these three coffee machines, we pour the coffee beans) and Nesta (ground coffee poured).
Saeco SG-200 – the new professional coffee machine for high-end infusion; it is designed for large and long loads, as it has the ability to connect to the water; the right one to install in your office!
Saeco SG – imported from Italy. Product 8 different kinds of coffee (Cappuccino, Mochaccino, hot chocolate, French vanilla, Americano, Americano with milk, Latte and Espresso.)
– The machine can be connected to the water network or to use the 5-gallon tank at the base.
– Controlled by the computer. The system adjusts the strength and taste, and the price of each drink.
CHARACTERISTICS:
Coffee production up to 250 cups per day
Dimensions (WxHxD): 158 x 41 x 54 cm
Dimensions including a container for coffee (WxHxD): 76 x 41 x 54 cm
Weight: 36 kg ATM (80 lb.)
Base -9 kg (20 pounds) 9 kg (£ 20)
Power supply: 120V / 60Hz
Energy consumption: 1250w, only during the preparation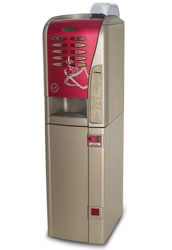 ---
Saeco International Group – a global company with manufacturing facilities in Italy, USA, France, Germany, Romania and China.
Saeco International Group is a Philips  company.
---
Necta, Necta Kikko, Necta Colibri. The coffee machine manufacturer of its brands is the Italian company NECTA. Coffee machines are convenient and easy to use, high quality and multifunctional.
Necta Colibri
CHARACTERISTICS:
– Coffee production per day: up to 165 cups
Necta Kikko
CHARACTERISTICS:
– Coffee production per day: up to 375 cups
Nesta
CHARACTERISTICS:
– Coffee production per day: up to 200 cups