In today's world, it is hard to imagine a workplace without a coffee machine; thus if you are a forward-thinking manager that thrives on boosting the production of their workforce and keep them satisfied, you would get in touch with "Source Café".
"Source Café" is a dynamic company that delivers an attractive formula: rent free coffee machines, free service, you pay only for the coffee. You simply enjoy the coffee and we take care of the rest; installing, programming and filling the machines. A service that is available for businesses of all sizes in and around Montreal.
We have been providing vending coffee machines rental services since 1995. Our excellent service and the high quality of our products have allowed us to become a leader in the industry.
Fast delivery, contract flexibility, and competitive prices are the three most important elements of our success.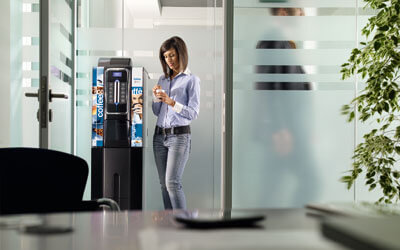 How the idea of renting a coffee machine was born?
The answer is simple. According to statistics Canada, in Canada each person consumes 5.91 kilograms of coffee per year (2 cups per day). A new study from ''Pressat" showed that about 70% of respondents admitted that their performance depends on the amount of coffee they absorbed. Coffee machine allows you to get your fix fast, without any effort, an unlimited quantity of your favourite drink at your disposal.
Contact us and together we will find the best and most optimal solution that fits you.